Welcome To The Official 2/26th Battalion Website

This website is dedicated in memory of Private Eric (Ricky) Henry Williams QX14871 (1909-1966) To view more information about the men who served with the 2/26th Battalion please visit the Nominal Roll Page here...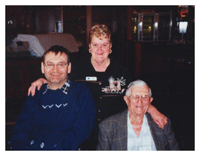 This website was created due to three dedicated people:
Muriel Butler - Researcher & website owner (pic middle)
Daryl Henbery - WebMaster (pic left)
and Ron Raaen - Former Battalion member and sponsor. (pic right)
R.I.P. – Ronald Ole Raaen 28 Jan 1917 – 2 Nov 2011 "Lest We Forget"
2/26 Battalion Family & Friends Association Inc.
For Membership enquiries please contact Muriel Butler
"The 8th Division constituted 14% of the British force but it took 73% of the battle deaths."