1. Singapore Island:
a. Camp – Wavell Camp at Changi
b.Training – rubber plantations and Kampongs (native villages)
2. Malaya Peninsula:
a. Camps – Kota Tinggi; The Boom; Mawai Village; Jasin
b. Training – Jungle, rubber plantations; water craft
3. Battle Stations:
a. Kota Tinggi; Mawai Village; The Boom; Eili Sedi
b. East coast jungle area, north to Jemaluang
4. Outbreak of War:
Moved to battle stations then back to West coast – Gemas area.;Places and areas of combat on return journey
a.Paya Lang to Johore Estate (Fort Rose)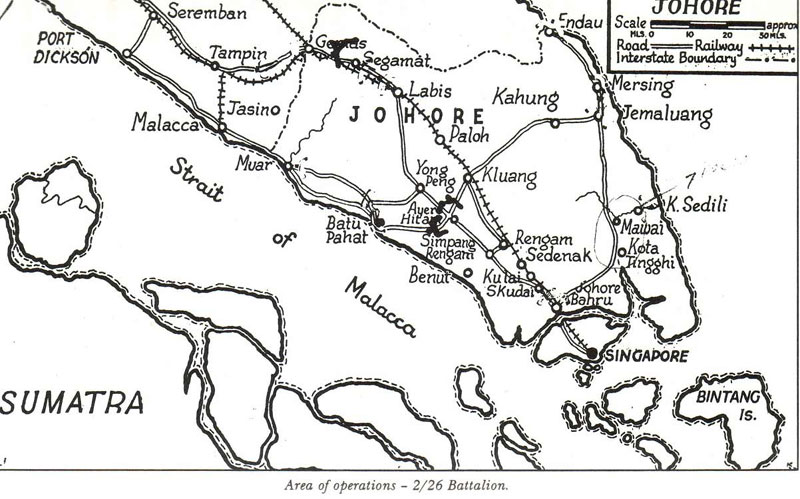 b. to Segamat area – Batu Anam – Jemanta
c. to Ayer Hitam and Yong Pen
d. to Simpang Rengam Cross Road
e. to Namagie Estat
f. to 30 mile peg
g. to Kulai – Jahore Bahru
5. Singapore Island:
a.a. Kranji Mandai Road are
b. West of pipe line from Bukit Mandai to Bukit Panjang Village >c. Withdrawal continue via pipe line to Dairy Farm – MacRitchie Reservoir – Chinese Cemetery – Tyersal Park to Farrer Road .
General Percival capitulated.