The 2/26th Battalion left the Port of Melbourne on 1st August 1941, aboard the Marnix Van Sint Algdegonde, (known and loved by all as "The Marnix"). They were in convoy with her sister ship, "Johan Van Olden Barnevelt" and S. S. "Katoomba" among others.

Also on board the Marnix were :
2/26 Battalion 1st Reinforcements
2/29 Battalion and 1st Reinforcements
Support Troops of Signals
A.A.S.C.
2/10 Field Ambulance
22 R.A.A.F. Personnel
3 N.Z. Naval Personnel

"The Marnix Van Sint Algdegonde"

Builder Nederlandsche Scheepsbouw. Amsterdam - The Netherlands

Launched August 1929
Completed April 1930
Gross Tonnage 20314
Dimensions 609ft x 75ft (185m x 22.9m)
Power Twin 20 cylinder diesels (14000 B.H.P.) Twin Screws
Service Speed 17 Knots
Crew 335
Passengers First Class 383
Second Class 281
Third Class 64
This was later converted to 1,414 one class for migrants.

The "Marnix" and the "Johan" were launched and completed within weeks of each other. They were the largest ships to be built in Holland at that time. Both were designed for the lucrative trade with the Dutch East Indies, and remained so until the outbreak of World War II, September 1939.

When war broke out the Marnix was basking in the tropical sunshine of Surabaya preparing for her homeward journey. Although the Netherlands had declared itself a neutral state and was not involved in the conflict at the time, the owners took the precaution of ordering the captain to stay where he was.

However, when Germany invaded Holland in May 1940, both ships were despatched to Great Britain and handed over for use by the Allies as troop transports. They were still manned by Dutch crews, but were placed under the control of Britain's Orient Line.

During November 1942, the "Marnix" while trasporting 3,000 U.S. troops to the Algerian landings was attacked by German dive bombers off the coast of North Africa and sunk.

The "Johan" carried:
2/30 Battalion and 1st Reinforcements
2/12 Field Co. R.A.E. and 1st Reinforcements
"L" Section 8 Division Signals
Part of 2/10 Field Ambulance
1 Company A.A.S.C.
35 R.N.Z. Navy Personnel

The "S.S. Katoomba" carried:
2/15 Field Regiment R.A.A.
54 R.A.A.F. Personnel
2 R.N.Z. Navy Personnel
All personnel aboard the "Katoomba" were transferred to 'M.P. Sibajak" at Freemantle, which joined U.S. 11B to Singapore.

"The Largs Bay" was the transport home for the majority of the 2/26 Battalion. The Sister ships, "Espence Bay" and "Moreton Bay" also carried members, as well as Hospital Ships such as "Oranji", "Circassius", "Wanganella" and many others. Members whose work Forces took them to Japan and other destinations were carried home by "H. M. S. Speaker."

"The Largs Bay"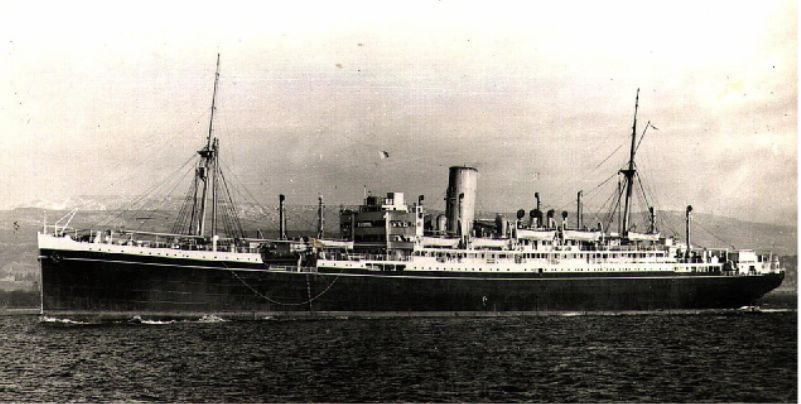 Builder William Beardmore and Company. Dalmuir Glasgow Scotland
Completed 1921
Tonnage 14,362 Gross
Length 552ft (168.3m)
Width 68ft (20.8m)
Service Speed 15 Knots
Propulsion Geared Turbines / Twin Screws

The Largs Bay was was one of five vessels (Moreton Bay, Hobsons Bay, Jervis Bay, Largs Bay, and Esperence Bay) ordered by the Australian Government at the end of WWI to cater for the Emigrant Trade. All five entered service between December 1921 and September 1922, offering rather basic accommodation for 723 passengers in one class.

The Commonwealth Government Line was not well run, and suffered considerably from strikes by seamen, so early in 1928 all five "Bay" vessels were sold to Lord Kylsant, who controlled a major shipping empire. These five ships were run as the Aberdeen and Commonwealth Line, with deep green hulls. Apart from reducing the number of passengers to 635 the ships were not altered at all and continued to serve Australia as before.

By 1931 the Kylsant empire had collapsed, and in April 1933 the Aberdeen and Commonwealth Line was jointly purchased by P&O, and Shaw Savill, the latter being the majority shareholder and manager of the ships. During 1936, Esperence Bay was transferred to Shaw Savill and renamed Arawa, and soon after the name of Hobsons Bay was changed to Esperence Bay. The four remaining ships remained in service until September 1939, when Moreton Bay, Esperence Bay and Jervis Bay were requisitioned and converted into armed merchant cruisers. On 5 September 1940, Jervis Bay was escorting a convoy of 38 fully laden merchant ships in the North Atlantic, when they sighted the German pocket battleship "Admiral Scheer". Despite hopeless odds, Jervis Bay turned towards the enemy, whilst the convoy scattered, but within an hour it had been battered to a hulk and sunk. As a result of her sacrifice, all but six of the convoy escaped destruction.


Largs Bay continued to operate in Australian waters until August 1941, when she was converted into a troopship. Also during 1941 both Moreton Bay and Esperence Bay were converted into troopships.On 2 January 1944, Largs Bay was damaged by a mine off Naples, and out of action for several months. All three surviving "Bays" were released from Government service in 1947. They were refitted for the Australian trade again, with accommodation for 514 tourist class passengers. By 1948 the trio were back in service for the Aberdeen and Commonwealth Line, offering a two monthly schedule of deprtures.

In April 1955, Esperence Bay, the former Hobsons Bay, left London on her final voyage to Australia. On her return she was sold to Shipbreaking Industries, arriving at their yards on 6 July 1955.

The Moreton Bay left London for her final voyage on 30 November 1956. On her return to Britain she was sold to T.W. Ward of Barrow to be broken up. She arrived there on 13th April 1957.

Largs Bay left London on 11 January 1957 for her final voyage. Departing from Sydney of 27 April, and Melbourne three days later, she was sold to T.W. Ward of Barrow on her return to Britain, and arrived there on 22 August 1957.