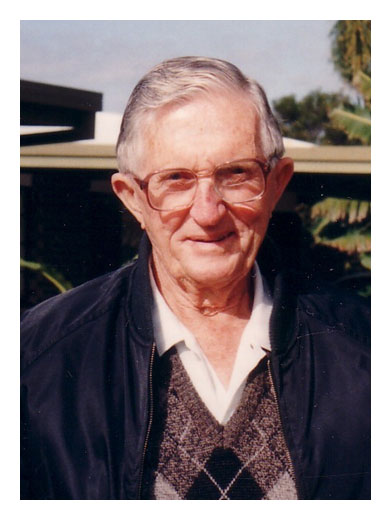 I was one of twins born 28th January 1917 at Villaneive. Until September 1920 I lived on the family dairy farm, then I moved to Woodford where my father had purchased a mixed business.

I attended Woodford State School until 1931 when I went to work in the shop, where I worked until late 1939. After this I worked in a saw mill in which my father had an interest.

After father accepted an offer to sell the saw mill in June 1940, I decided to enlist in the Army.

I went into Grovely Camp, which was still under construction on 19th July 1940, and during a morning parade it was announced that a Signal Platoon would soon be formed. I decided it sounded more interesting than being an ordinary footslogger, so applied and was accepted for training in Morse code, the use of heliograph, learning to send signals by flag lamps and to read by sound.

After the 2/26th Battalion was formed in November 1940, and along with most of the officers, NCO's and specialists I moved into an area formerly occupied by 2/25th Battalion.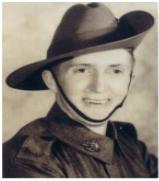 After training at Grovely, Redbank and Bathurst, I was given pre-embarkation leave from 16th – 24th July 1941, and learnt on my return that the Battalion would be leaving at the end of the month for Melbourne.
On the 29th we were on the train on route to Melbourne, where we arrived next morning. The train went on to the wharf and it was off the train and on to the ship. – Marnix Sint Van Algedonde. I was looking forward to my first voyage on an ocean going liner. We ate and slept in the one compartment, which had hammocks slung above the mess tables.
To avoid the chance of attack by Japanese submarines we travelled south to latitude 40 degrees before turning west, thus passing through the roaring forties, where the swells were so big that when we were down in the troughs we could only see the masts of the other ships in our convoy. I was pleased to find that I was a very good sailor and did not get seasick.

Berthing at Freemantle on the morning of 7th August we were given leave until midnight, and I together with a few others caught a train to Perth, where we had a good look around the city and finished the day with a good Australian dinner, not knowing when we would get the next one.

We left on 8th August and arrived in Singapore on 15th, when we were taken to Wavell Camp near Changi Village. The Battalion moved to Malacca, then to the east coast of Jahore. The Japs bombed Singapore on the 8th December, and so the time to put our training into operation had arrived. We returned to Malacca to relieve the 2/30th Battalion, which had been holding up the Nips advances.

The Battalion was ordered to withdraw, so we started our ordered withdrawals which saw us on Singapore Island in late January. It was in the evening of the 15th February that we were told that Singapore had surrendered, and so began my 3 ½ years as a Prisoner of War.

As a Prisoner of War I was sent from Changi to camp at the Great World while working on the wharves. I had some heavy days, especially when working twenty four hours straight through. I had a few days off as I had contracted Dengue Fever.

I arrived back at Changi, had a medical check and when I mentioned my eyes were giving me trouble, was sent to the eye clinic where I was put on "no duty" and given vegemite, rice polishings and yeast.

Because of my eyes I missed out on being sent away with the men of "F" Force, and at Changi I was put on light duty and did odd days at the gardens, and also worked regularly at Changi aerodrome cutting up and carting away coconut trees.

I left Singapore on 22nd September 1945 aboard the Hospital Ship "Oranje" and arrived back in Brisbane on the 26th and spent the next few weeks meeting father, most of the family and friends. During the voyage home I had gained 13 pounds due to the excellent food served onboard.

Father and I purchased a pineapple farm in the middle of 1946 which I worked until fathers' death in 1966, after which his properties were sold.

Next followed a short spell from work, then I was offered the job as salesman for a local garage where I continued working until my retirement at 60 years of age.

After paying rent for some time I spoke to one of my brothers, about getting together to purchase a house. We found a house suitable to both of us and moved in May 1980. My brother passed away in 1993. Ron sadly passed away in 2011