Arthur Edwin Pearson
23 September 1917– 26 January 2005
QX13257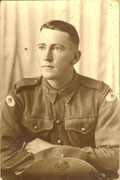 Arthur was born on the 23rd September 1917 in Mackay and raised in Eton being one of three children, having one brother and one sister. He went to school in Eton and later worked at the North Eton Mill as a Labourer. It is here that he worked without an apprenticeship so as to earn extra money to assist his family.
He later volunteered to join up aged 22 years, and after 3 ½ years as a POW, Arthur returned to Eton, met and married Margaret (nee Stayt) from Newbury Junction, and raised his family of 3 boys, and later becoming the proud grandfather of 4.
After living in Eton for a few years they moved to Dundula, then onto Bakers Creek to help further his childrens education. He had several jobs including a season of fruit picking in Shepparton, before working as an electric welder at the Sugar Research Institute in Mackay where he worked until his retirement.
His retirement was filled with activities such as lawn mowing, driving a school bus and spending a great deal of time fulfilling his love of fishing. Fishing was where he spent a lot of time with his friends, family, and quite often alone.
Arthur was also a very active member of his church and with his love of music was a keen member of the choir.
Other interests in his retirement were his love of sports which were table tennis, indoor bowls and riding his motor-bike. He purchased a second-hand "Coventry Eagle" in the early 1950's, then later on fell in love with the "Suzukies". The last Suzuki he rode was a 200cc which he enjoyed riding until the age of 84 .(the oldest bikie in town)
He gradually slowed down his activities and eventually suffered a stroke just after Christmas of 2004 and a year later passed away on January 26th 2005 aged 87.