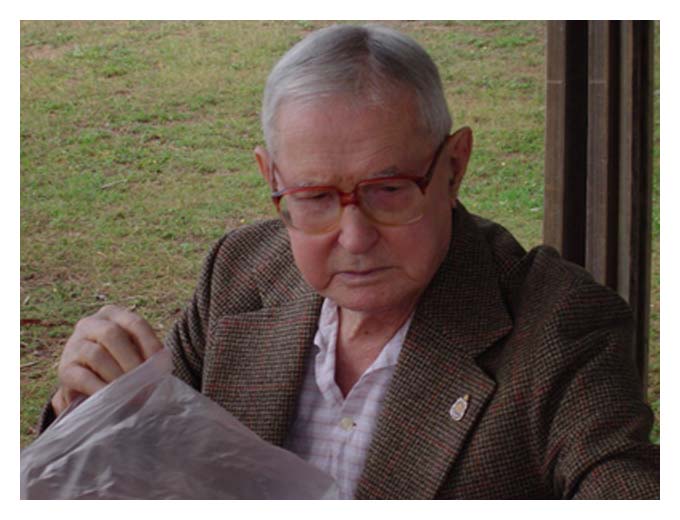 I, Joseph Edwin Negus Porter (Ed) was born in Maryborough on 19th August 1918, the only boy in a family of 6 children. In 1931 we moved to Goomeri, where I continued my schooling until I was 14, when I left school to work at a local hardware and grocer store. I left this employment to work in a similar position for 8 years. During this time I learnt hairdressing skills from my father who was a hairdresser.

I joined the A.I.F. on 29th April 1941, before which I was in camp with the 5th Lighthorse Regiment. After various training camps, I transferred to the 2/26th Battalion, and soon found myself and four mates on our way to Singapore.

After capitulation I found myself in Selarang Barrack, where I was appointed camp barber. Despite having little experience and even less equipment I generally managed to keep the men in fairly good trim.

I left Singapore on 15th May 1942, as part of "A" Force, aboard the "Celebes Maru" bound for Mergui. I was on the move again on 20th August aboard the "Tatoo Maru" for Tavoy, from where we marched along the railway line to Lamanag, crossed the river to be loaded into salt trucks and taken by train to Thambousayat. From here we were taken by truck to 26 kilo camp to start work on the Thai-Burma Railway, where I worked on various sections until December 1943.

On the move again to work for a time on the water front, where we were bombed several times by our own bombers, among other jobs in Saigon, where the Japanese planned to send us to Japan.

On 6th September 1944, as part of "J" Force, we were loaded on the Rayuko Maru, which sailed from Singapore. At 5.20a.m.on 12th September the convoy was attacked, with our ship suffering two torpedo hits. It was almost dark when it finally sank.



My mate, Bluey Kay and I were the last two left aboard when he had to cut free the only remaining lifeboat , which on hitting the water, split enough to take in water. By the time we climbed down the rope there was scarcely enough room for us.
The first night three lifeboats were tied together so as we would not drift away from each other, but this did not prove to be successful as we didn't make any headway. It was decided to separate and go our individual way hoping to reach the Chinese mainland. During the night and early the following morning we heard machine gun fire, suspected our mates were being fired upon and thought that at any time we would see a patrol boat coming over the horizon and received the same treatment.
The rest of the day and next night were uneventful, except that some of the others wished to throw me overboard as I had malaria, beri beri and pellagra and was not fit to pull an oar or help in any way. This was the time when I found I had one true friend in Bluey. He defied anyone to lay a finger on me, or they would have him to deal with, so not a soul said another word. Surviving on a couple of dog biscuits and a small ration of water, we were "rescued" by a Japanese patrol boat on 14th September, and arrived in Kawashi, Yokahama on 30th December 1944, where I was placed in Camp 11D.
On arrival in Japan I had lost the use of my legs, so each day I was put on a hand cart and two men were detailed to pull me 2 ½ miles each way to the Shibura Engineering Works, where I shuffled around the best I could doing any necessary sweeping around the factory. I came down with pneumonia, and was taken to Shinagaua Hospital until the "Nips" decided it was time I went back to work. Fortunately, during this time I regained the use of my legs and was able to march with the others.

The first bombing took place on 4th April 1945, and it wasn't long before our turn came on 15th April. The entire camp burnt, but fortunately everybody was evacuated without injury.

I started work at the Foundry Shintetsuat, Ngate on 7th May and was still in this camp at wars end on 15th August 1945. I left camp aboard a train to Tokyo on 5th September, where we were stripped, fumigated and issued with clean clothing.

I was sent to Manila for quarantine and saw my first motion picture. There was also a special visit by Gracie Fields.

I arrived back in Sydney on 20th November. After a train trip back to Queensland, and formalities and medical examination at Holland Park, I was overjoyed to see my mother and father waiting for me.

After the war I travelled up north with my mate from the 2/26th, Kev Cirson, which eventually led me to be a hairdresser at Mackay between 1947 until my retirement in 1978. I did hairdressing for a short time prior to 1947 with my father in Pialba.

I married my wife in Mackay and subsequently had 3 daughters, who have presented me with 7 grandsons and a first great-grand child to be born in 2006.

Socially, during my working years in Mackay, I enjoyed playing cricket and the violin as well as developing an interest and skill in wood turning, which I continued into my retirement years until health prevented my participating in such activities. My wife and I continue to enjoy life, avidly following various sports via television and enjoying visits from family and friends.

Sadly, Eddies daughter advised us that he passed away on 6th August 2007, just 13 days before his 89th birthday. Lest we forget.